Plastic molds are essential in numerous industries. Plastic injection molds are the foundation for all the major products produced and supplied by a plethora of industries. They form the keystone for applications in industries of aviation, automobiles, microwave ovens, plastic parts used in utensils, toys and tools industries, plastics for electronics, home appliance plastic products, and more.
The insert mold industry keeps on growing due to the growing need and its diverse applications. It is important to find the best injection plastic molds manufacturer and supplier.
This list of the Top 7 Plastic Mold Manufacturers in Bangalore helps you to gain insights on one of the best developers and suppliers of plastic molds and their field of expertise. This will help you to make an informed decision about your requirements. 
Where Can You Find One of the Credible Plastic Mold Manufacturers for Your Company?

RYDTooling is a reliable and reputable injection molding manufacturer and supplier that aims to offer high-quality and highly-precise products for its customers. If you are looking for an abundance of reliable and customized plastic molding articles, then RYDTooling can be your one-stop solution for all your mold articles needs.
The company adheres to all the industrial rules and guidelines and keeps quality checks at its utmost priority. With the manpower to develop over 400 sets of tools every year, you can find various products from electronic products to automotive injection mold parts..
The products are exported in North America and Europe due to their highly efficient and developed products that meet the expectations of the customers every time.
Features:
Competitive pricesreduced at least 15% of the original costs.
Custom designing and high-quality materials.
Feasible, intricate designs and highly-precision designs and layouts.
Faster delivery and assured quality.
Location:
Shenzhen City, China
Plastic Mold Manufacturers in Bangalore
1. KomTech Industries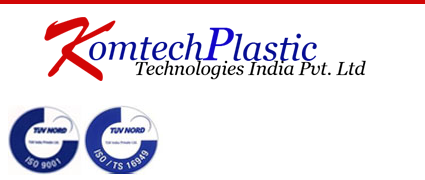 Komtech Industries was founded in the year 1998 in Bangalore with a vision to engineer highly competent products for their customers. The company specializes in plastic precision molded products and other small post molded products for industries and applications such as batteries, automotive, plastic for electronics, housing, and electric systems. The focus of the company is to offer cost-effective solutions to its customers.
Features:
Focus on long-term partnerships with clients.
Supply of small to large assembly parts.
Competitive and cost-effective molding products.
Full customer support.
Location:
Peenya Industrial Area, Bangalore
2. Hytech Precision Plastics

Hytech Precision Plastics is one of the leading manufacturers of clear plastic mold parts and components for applications in industries such as Solar, Electrical, and irrigation facilities. The company specializes in products such as plastic injection molding components, plastic injection molds, rubber parts, and more. Hytech Precision Plastics has decades of experience in the development of plastic products and has gained a reputable name in the market.
Features:
Use of advanced technology and machinery.
Products engineered by experts and experienced developers.
Location:
Byraveshwara Industrial Estate, Bangalore
3. VisionTec

Vision Tec was established in the year 2006 and has been regarded as one of the premium manufacturers and developers of molds, die-sets, mold bases, and mold accessories. The company aims to offer accurate, highly-competent products. It has a wide variety of reliable and unique designs and structures. It has decades of experience and expertise in the production, designing, and development of injection molding part design and other product mold products.
Features:
The wide array of mold solutions provides complete solutions to its customers.
High-quality products.
Dedicated and experienced team.
Location:
Peenya Industrial Area, Bangalore
4. Primex Plastics

Primex Plastics is one of the best plastic injection molding companies in Bangalore. It offers a wide range of highly-efficient products for its customers. The company is known for its high-quality tested and designed products that are appreciated by the customers for how sturdy, high performing, and precise the products are. It is equipped with industrial-level quality checks and follows strict industrial guidelines.
Features:
Customizations of products are available.
Precise and high-class quality checks continually,
Timely delivery of the products.
Location:
Bangalore
5. Kruger Industries

Kruger Industries deals in plastic injection molds and other plastic molds components with optimum designing, development, and engineering of the products. They provide high-quality, expertly crafted products. You can rely on Kruger Industries for their consistency and accuracy. The company believes in its vision to provide consistent service and effective solutions with its experienced team.
Features:
The experienced development team focuses on providing unique solutions.
Precise and engineered designed products.
Location:
Bangalore
6. Shree Sampath Plastics

Shree Sampath Plastics is a certified custom plastic injection molding products company. They are experts in highly intricate and detailed mold components to work as per the expectations of the customers. They are highly driven and dedicated and practice utmost quality controls and inspection for all their products. The machinery is equipped with advanced technologies and aims to offer advanced technical specifications for all its customers.
Features:
A wide range of products.
Advanced machinery and technical resources.
Timely delivery of products.
Location:
Hulimavu, Bangalore
7. Micro Plastics

Source:Micro Plastics 
MicroPlastics is a highly advanced company with the vision to provide high-quality, accurate, and highly-equipped plastic molding products. They are the leading manufacturer and exporter in the fields of Model Hobby Kits, Sports Equipments, and Toys; while the other industries it specializes in includes Electrical and electronic products, and Telecom and heavy engineering specialized products.
Features:
Innovative and intricate products.
Dedicated and experienced staff members.
Customer support is available.
Location:
Bangalore
Conclusion
If you are the one who gets overwhelmed amid the various choices available for the injection and clear plastic molds, then these top plastic mold manufacturers will help you evaluate, make a list of all the important knowledge you may need to choose the best manufacturer for your plastic molds requirements.
You can contact RYDTooling to avail of their amazing customized plastic mold and other mold products.